Bianca Willson Named LIA Graduate of the Year for South Australia
Bianca Willson from Multi-Color Corporation in Adelaide has been named South Australia's LIA Heidelberg Australia Graduate of the Year at a presentation held at Fujifilm Business Innovation last Friday 17 September.

The prestigious biennial award is made by the Lithographic Institute of Australia (LIA) and is supported by Heidelberg Australia and Visual Connections. Nominations are received from employers for apprentices training for a wide variety of industry careers.

Bianca, who was judged the winner after an extensive interview and evaluation process conducted by a panel of industry experts, recently completed her print apprenticeship.

The other finalists for South Australia were Adam Brown from VisualCom, Nick Birbas from Multi-Color Corporation, and Fletcher Masters from Hanson Print & Design.

The graduates, their colleagues and families, enjoyed drinks and canapés at the the event, which was attended by about 30 guests – comparatively low for such events due to COVID gathering restrictions, but nevertheless a welcome opportunity to celebrate excellence, reported Gordon Wilson from the LIA SA committee.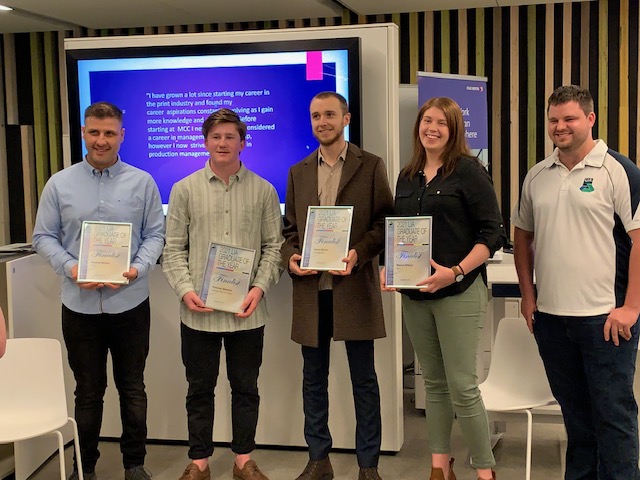 Fletcher Masters, Nick Birbas, Adam Brown, Bianca Willson with 2019 biennial winner & LIA committee member, Jono Pitt.

"It was very pleasing to be able to recognise the achievements of these great young people, who will doubtless become some of the industry's next generation of leaders," Wilson said. "We sincerely congratulate Bianca on the win, and commend her fellow finalists, too, on their outstanding performance.

"The LIA has a long history of supporting education and training across our sector, and we are delighted to see the continuing high standard of graduates and, with the help of our sponsors Heidelberg Australia and Visual Connections, to be able to provide a tangible reward for their efforts as they seek to further their education and industry experience."

To find out more about the LIA and the Graduate Awards, go to www.lia.com.au