New SpectraLab XF delivers accurate, super-fast inline colour measurement and quality reporting
Latest Esko AVT innovation for print inspection at packaging converters delivers measurements "hundred times faster"

Packaging converters can now benefit from faster and more accurate inline colour inspection, with the launch of the latest innovation from Esko, AVT SpectraLab XF.

Unveiled at the recent Esko Innovation Summit, AVT SpectraLab XF is a unique inline colour measurement solution based on a new, super-fast X-Rite sensor. With XRGA-compliance, AVT SpectraLab XF delivers the ability to measure during make-ready and production, ensuring colour and quality consistency across the entire print cycle.
"When it comes to brand recognition and value, colour consistency and quality are absolutely crucial," said Guy Yogev, Esko AVT Senior Director of Product Marketing. "The uniformity of a brand's packaging color inspires trust and loyalty among consumers. But achieving perfectly reproduced brand colours for packages and labels requires converters to print to the numbers and monitor colour accuracy - all while manufacturing at high speeds and volumes.
"Meeting this standard can be challenging, especially with increasing demand for shorter production runs as brands seek to grow market share with targeted campaigns, brand extensions and limited editions," he said. "Using handheld manual measurement falls short of this challenge - measuring only a few points per roll is insufficient, time-consuming, and requires frequent operator intervention. AVT SpectraLab XF has been developed to help converters meet these brand expectations, through effectively measuring and monitoring during run-time and make-ready and ensuring converters print to colour target."
Delivering accurate and automated colour measurement for the full array of packaging applications, AVT SpectraLab XF incorporates a new X-Rite spectral sensor and can measure a complete vertical colour bar in a single repeat. Smaller, 4-5mm patches can be supported depending on press speed and a new LED lamp with M0, M1, and M2 correlates to offline inspection standards.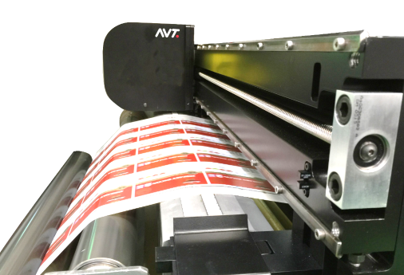 "AVT SpectraLab XF is fast, accurate, and saves converters valuable time," said Guy. "This new solution is capable of measuring colour targets and in-image colours in a much faster run time, delivering measurements one hundred times faster than before, with higher frequency and many more measurements per roll," he said. "The technology delivers much better targeting and accuracy, and importantly can work with very flexible materials."
Guy explained that as AVT SpectraLab XF also enables measurements during make-ready, converters can save significant, valuable time in ensuring colour accuracy, as well as reducing job change time. "With the support for as small as 4mm targets or patches, users can also enjoy a saving on material trim area, while the optional data import/export option gives the ability to send data to various colour reporting systems, as well as ink-room interfaces such as X-Rite IFS."
Incorporating AVT SpectraLab XF into the inline inspection system not only saves time in setup, but it also maximises operator efficiency. "The system provides both visual inspection as well as colour measurement and enables every aspect of process and quality to be monitored. Using the BestMatch optional module, AVT SpectraLab XF suggests possible actions on press and saves time as well as reducing the workload further," said Guy. "It measures L*a*b*, Delta E, density and dot gain on flexible packaging and folding carton applications, comparable with offline devices, but all at point of print with no press stops, for maximum efficiency.
To find out more about AVT SpectraLab XF, visit the Esko website. For details of the full range of Esko solutions, visit the Esko Innovation Hub at innovation.esko.com.


About Esko
Esko is a global provider of integrated software and hardware solutions that accelerate the go-to-market process of packaged goods.
For each stakeholder in the process, Esko solutions enable them to work efficiently and deliver right-first-time packaging and marketing content on time, every time.
Our goal is to make it easier for CPG and pharma businesses to manage their packaging, labeling, regulatory and marketing content. With our packaging management platform, brand marketing and packaging teams can increase their productivity, reduce costs, and save time.
For packaging and label trade shops, premedia service providers and printer converters, we digitize, automate, and connect the entire print production process with software and hardware solutions for CAD design, prepress processes, flexo platemaking and print inspection.
Facts & numbers
Packaging for 9 out of 10 major brands is produced by our customers
We are headquartered in Gent (Belgium)
Worldwide, we employ about 1,600 associates from 40 nationalities
We serve 25,000+ customers in 140+ countries
61% of our staff are customer-facing daily
Our global sales network consists of 300+ direct sales staff and 120+ resellers
For further information, please visit www.esko.com